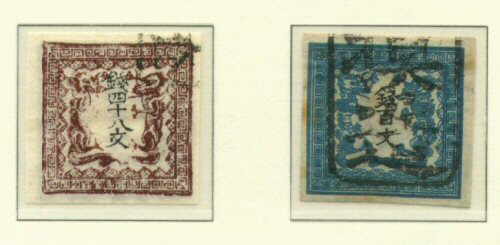 These two are from the first series of Japanese stamps from 1871 - the Dragon series. These are not genuine but forgeries. Such forgeries is often much better than these, but can be identified. Forgeries is typically found in old collections. The SSJP library has books on how to identify forgeries or you can find more on Internet
.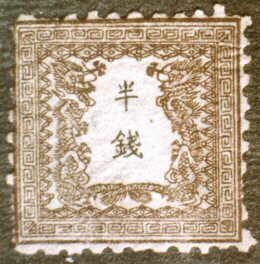 Here is a genuine dragon stamp ½ sen from the second series 1872.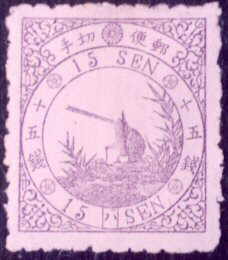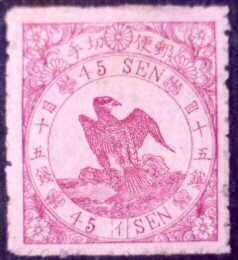 Here are genuine bird stamps - 15 and 45 sen from 1875. This was the first series with the bird motives in the world.

This is forgeries of the bird series from 1875. There are typically 2 small characters on each side of the bird. Often a cancel is places just above them as in these examples. More information at ISJP.

1 sen in the Koban series from 1883. 3 postmarks - at the left a large Bota (Bamboo) postmark from Yokohama, in the middle a non-postal marking, at the right a Maruichi postmark. All these are domestic postmarks. Non-postal postmarks typically has a much lower value.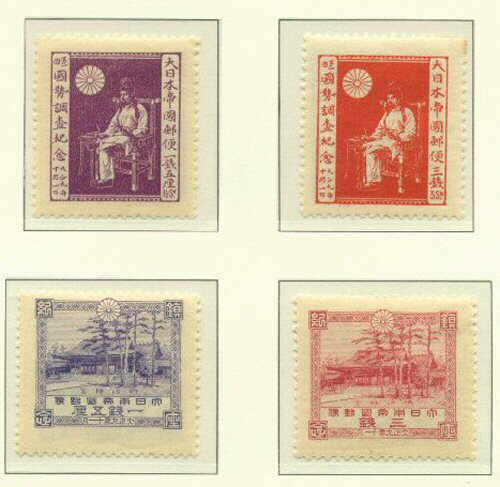 Two series from 1920. Above for the first census. Below the Shinto shrine for emperor Meiji.